"POZZI"MINE FOUND AND VISITED
The "Pozzi" mine is situated in a very beautiful chestnut wood at an altitude of 540 mt. whith an entrance which is situated to north-west. Its style is the same of the other mines ;it's not long but has some peculiar aspects.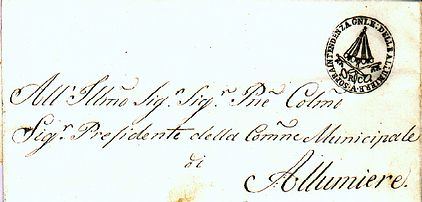 Letter of 1850 from "general superintendence of Allumiere" that administered the mines in the period of the first galleries (some years before the mines were at the open air)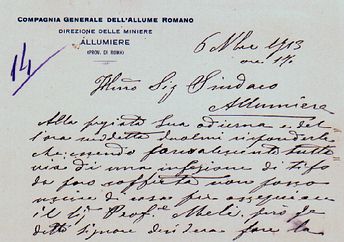 Leter from the company of the Roman Alum that administered the mines in the first part of 900
This is the way now covered with green that went by the mine transport the mineral the to the "la lumiera".Unfortuanately this way does not exist anymore, because it has been swalloved by the creation of the kaolin mine.
| | |
| --- | --- |
| ROAD TO TRINITY MINE | ROAD TO "ALLUMIERE" |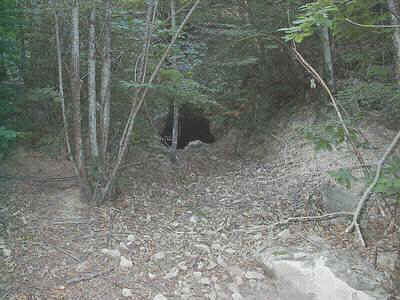 THIS IS THE MAIN ENTRANCE TO "POZZI "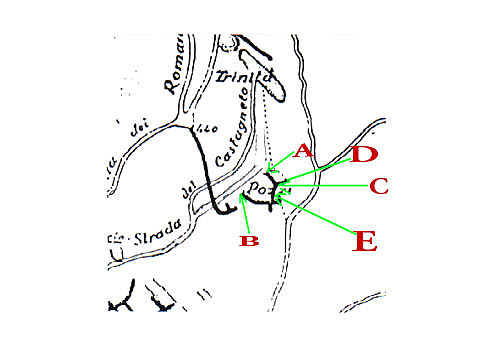 A) MAIN ENTRANCE B)SECONDARY ENTRANCE
C) THE GALLERIES ARE DIVIDED IN TWO BRANCHES
D)LEFT BRANCH E)RIGHT BRANCH
| | |
| --- | --- |
| ENTRANCE | CORRIDOR THAT FROM A GOES TO C |
The water has poured into the corridor that from the entrance goes to the branch;but the water is not too much so you can come into the mine.At the entrance , as already seen in other mines there in a small place in the rock to put oil lamp.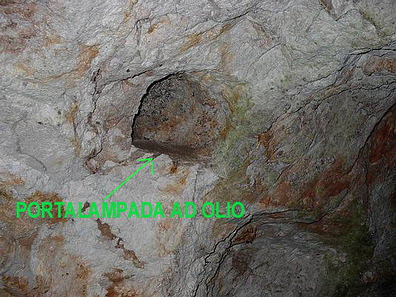 Small place for the oil lamp
| | |
| --- | --- |
| THIS IS C | THIS IS THE COLUMN AT THE END OF THE GALLERY |
The meeting point of the two galleries is interesting for a cement column with a small place for the oil lamp and perhaps for a holy image. T he cement covers some wod structures so we can deduct that this mine has been in activity for a long time and to the definite closure of the minerary complex.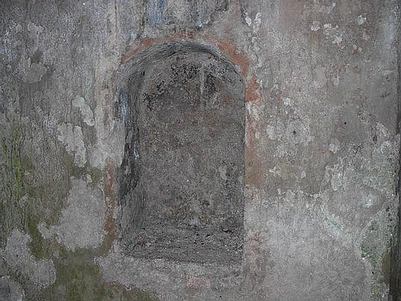 Photo of the cavity used to put the oil lamp.
Along the wall the rock without alum has been deposited; in this way in not thrown out of the mine. This is the first time that this method is used.
In this sequence you can see the entrance B that after 150 mt. meets point A
In this part there is a part of a car to.So i can say that i have noticed a lot of abuses in our country many private people use the mines inapropriately and the authorities don't intervene agaist them.The mines are a part of our history but nobody protect them. I'd like to close this part with this motto "A place with no past has no future" but i hope we will have a future.