THE BIOGRAPHY OF THE CARDINAL MERTEL
The famous cardinal was born in Allumiere on February 6'1' 1806 from Isidoro Mertel, a Bavarian baker. The young Teodolfo went to school in Tolfa in a monasten, of the Capuchin friars. On July 16'1' 1828 in Rome he graduated in law and in June 1831 he was in the law roll of the Roman Curia, becoming later in 1833 supply judge at the court of the junior magistrate of the Chamber.
After the degree, he professed law for his native town and was prefect of the congregation of Saint Ives in a Roman institute which defended poor people freely. In 1847 he was junior magistrate of the "Sacra Rota" . In the first years of Pio IX popacy he was secretary of the board for the preparecion of the statute of the Church State, in 1850 he was minister without portfolio. In 1853 he was minister of home affairs and of law.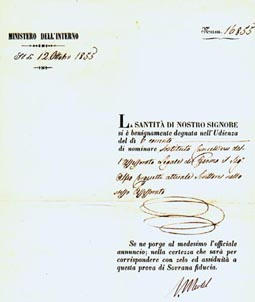 In 1858 Pope Pio IX made him cardinal but, as he was not a priest, he couldn't celebrate the Mass,so he usually took part at his secretary's Mass. This was the future cardinal Gasparri, one of the peace makers between the State of the Church and theItalian State. As a cardinal, T. Mertel has other inportant functions; among these he was secretary of the memorials and of and, at the end, he was deputy chancellor of the Church. In the last years of his life he loved living the hot summers in Allumiere, where he died on 11 t" July 1899.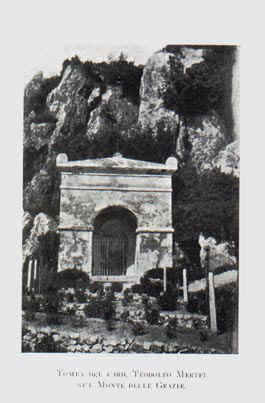 THE GRAVE OF MERTEL IN ALLUMIERE
In these months he dictated "The historical memories of Allumiere"to complete another small work he had aIready written and published anonymously in 1835 "An historical outline on the mines of Allumiere" This had been published in Civitavecchia at the Strambi printing.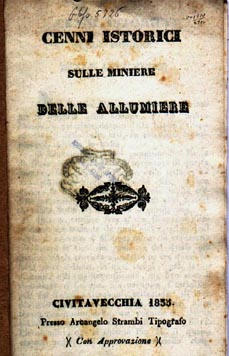 THE ORIGINAL BOOK ANONYMOUS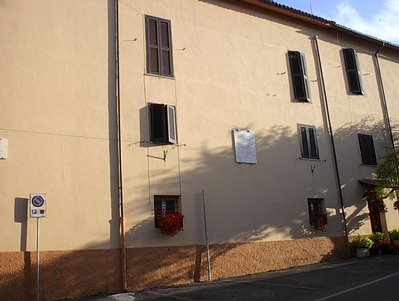 THE HOUSE OF HOLIDAY
This text has been adapted from "Teodolfo Mertel, a man who studied the ancint things of these mountains" , ori the Archeological papers of the association "Adolfo Klitsche de la Grange".
Allumiere 1984

TO SEE MERTEL GRAVE IN ALLUMIERE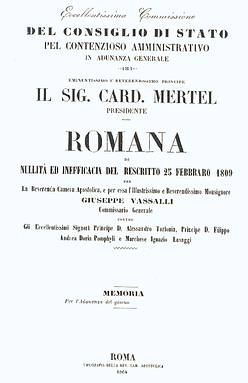 Click here TO SEE ALLUMIERE TOWN'